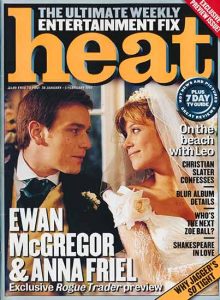 30th January – 5th February 1999
Mission Improbable
From "moon-faced" member of the Christian Soldiers Choir to indestructible pop icon, it has not been easy being Debbie Harry. It still isn't. By Phil Sutcliff
THE FIRST ATTEMPT WAS A HOPELESS failure. Broken, disillusioned, fogged by narcotics, Debbie Harry left New York, aged 25, and limped back home to Hawthorne, New Jersey. She sunk out of sight for a year, housekeeping for the parents who'd adopted her as a three-month-old abandoned baby, quietly refuelling for another crack at realising her ambitions: to be rich, famous and a singer.
She'd started out as "a fat, cherubic soprano" in the Christian Soldiers Choir – nicknamed "Moon" because of what she calls her "big, round blob" of a face – but by the age of 14 she'd dyed her hair blonde, declared her contempt for school and begun an unresolved conflict with her mother over the viability of black underwear. Propelled by little more than a childhood fantasy that her real mother was Marilyn Monroe and with no strategy beyond hanging out where the action appeared to be, she seems to have conducted her artistic life as a gentle meander in the general direction of self-discovery.
By 1965, New York was inevitable. Drawn to Greenwich Village, she worked as a waitress and a Playboy Club
bunny and attached herself to Andy Warhol's entourage. She loved his Factory crowd, the eight-hour movies, the glamour and sleaze. For a while, she even manoeuvred herself into the spotlight as the singer with a couple of bands, The Tri-Angels and a hippie collective, Wind In The Willows.
Eventually, though, it cracked her up. She gave in to a crushing depression brought on by drugs and a frustration at the lack of progress on her faltering quest for identity. "I was out of whack in relation to myself," she remembers. "I still didn't know who I was and often I couldn't talk." While the drugs meant she "wasn't so tense and nervous all the time," she got disgusted with being permanently half-asleep and took off for three years, heading back home to New Jersey, and then staying with friends up at Woodstock. But as she gradually recovered, she recalls waking up every morning once again with a burning desire to be a singer, "knowing that if I didn't try I would never forgive myself."
Returning to the New York underground in 1973 she fell in with a pre-punk rock & roll crowd of far fewer pretensions than the Warholites: The Ramones, New York Dolls, Television. After a few desultory adventures with a beehives-and-ripped-fishnets girl vocal trio called the Stilettos – inspired by the Shangri-Las – she hooked up with guitarist Chris Stein. They started a band and they fell in love. And, at last, she got an angle on herself: browsing through Stein's classic comics collection, she had her eureka moment, conceiving of Blondie the singer as a cartoon character come to life and stepping on stage, the image of her own vulnerability and resilience. "Even if she was getting ready to jump off the Empire State Building, Blondie was going to have fun on the way down." It took four years of punishing work – shrugging off the critics who called her "awkward, stiff, nervous and self-conscious" – to break through in 1978 with Denis, a British number two hit.
So for the next four years her fame dream was fulfilled by Heart Of Glass, Sunday Girl, Atomic, Call Me, The Tide Is High (all British number ones) and a dozen other big hits. The voices who'd been "trying to limit what I was before I tried anything" were suddenly fans saying, "'Great! Keep going! Do it!' Which is what I wanted to hear my whole life."
She never did get rich because of costly record label swaps and management changes, but she did find the satisfaction she was looking for all along in Blondie's music and threw her heart into it with a passion beyond anything her cool self-possession on stage ever suggested. There is, though, still just a whiff of Warhol's high-art concept when she explains the band's seemingly effortless commercial formula. "The method of writing a hit song," she believes, "is to fucking die and then come alive again, just experience as much pain as possible." And she talks about good moments in performance like a sports champion discussing the zone: "When concentration is dead centre, there's a physical change, like when you're in Concorde and you hit supersonic and the plane goes 'Huuuuh!'"
Blondie's time had probably passed when, after six album/tour cycles, she took three years off in 1983 to nurse Stein through his long battle against the wasting disease, pemphigus. But she couldn't turn her back on the stage character who finally gave her some sense of self-fulfillment. Even when smitten with "the blow-ups" – her tendency to put on 50 pounds in the time it takes to look at a chocolate cake – she's ploughed tirelessly on through six solo albums to the forthcoming band reunion album No Exit as well as recording several movie roles (notably in Videodrome, Union City Blue and John Waters' notorious Hairspray).
At 53 she's still as restless as ever, touring with the reborn Blondie, scat-singing with her archly arty Jazz Passengers and showing no inclination to retire to her luxurious New York loft and buff up her awards. In fact it's hard to imagine she ever will. For Debbie Harry, "It's a relief to be involved in artistic thought and I find this very strengthening and rejuvenating."
Photo captions:
1956
The "cherubic" baton-twirler and church choir soprano, aged 9
1963
At 16, voted "Best Looking" at Hawthorne High School, New Jersey
1969
All ears: nine months as Playboy Club waitress in New York, aged 22
1972
On the bleach: blonde at last with girl vocal trio the Stilettos
1976
Early Blondie: the sadly short-lived "flying giggles" phase
1979
Return of art-rock Marilyn fixation as the number one hits rack up
1981
Don't try this at home: banned sleeve for doomed solo album Koo Koo
1986
Generous use of new Cameron Diaz hair-styling mousse in Hairspray
1994
Off-duty Jazz Passengers frontperson in back-to-brunette fashion bid
1998
Real razorblades – and poor quality gong – at the Q Awards