November 2010
Pages 40 & 41
SHOWSTOPPER
WALTER STEDING
OCTOBER 28, 2010
MUDD CLUB REUNION AT THE
DELANCEY LOUNGE
NEW YORK, NEW YORK
"I was never not an artist. That person who was always painting the school with seasonal themes for Halloween and Christmas was me." When Debbie Harry wrote about introducing us to her friend Walter Steding, she revealed, "I have a couple of Walter's paintings hanging in my house. One of them is Capote looking quite mad, and the other is of a dog of mine that is now dead. Both are strangely threatening." And that was very intriguing.
Asked what New York City means to him as artist and citizen, there's no hesitation for Steding. "The other night I went to the LaMama with my daughter Georgeanna to see a puppet play about 'The Devil and Daniel Webster.' Today I go to the McWhinnie Gallery to collect for a painting I sold of Santa and get a photo they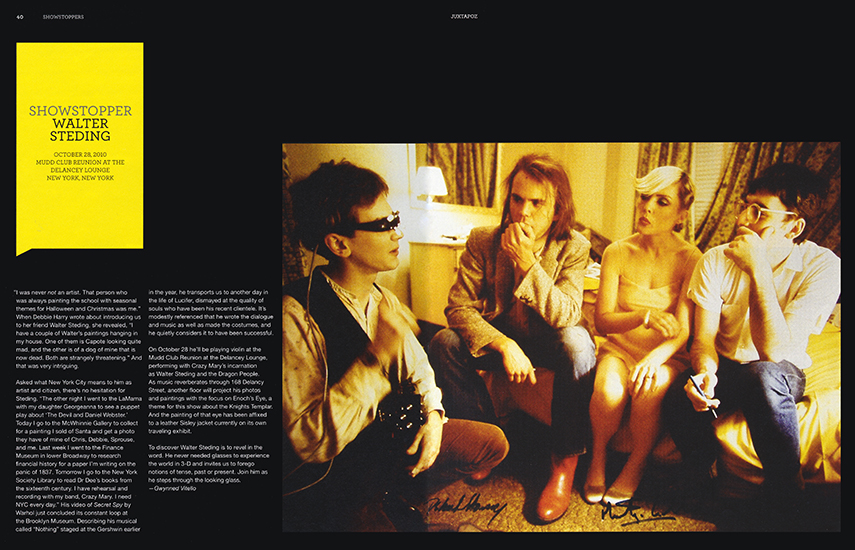 have of mine of Chris, Debbie, Sprouse, and me. Last week I went to the Finance Museum in lower Broadway to research financial history for a paper I'm writing on the panic of 1837. Tomorrow I go to the New York Society Library to read Dr Dee's books from the sixteenth century. I have rehearsal and recording with my band, Crazy Mary. I need NYC every day." His video of Secret Spy by Warhol just concluded its constant loop at the Brooklyn Museum. Describing his musical called "Nothing" staged at the Gershwin earlier in the year, he transports us to another day in the life of Lucifer, dismayed at the quality of souls who have been his recent clientele. It's modestly referenced that he wrote the dialogue and music as well as made the costumes, and he quietly considers it to have been successful.
On October 28th he'll be playing violin at the Mudd Club Reunion at the Delancey Lounge, performing with Crazy Mary's incarnation as Walter Steding and the Dragon People. As music reverberates through 168 Delancy Street, another floor will project his photos and paintings with the focus on Enoch's Eye, a theme for this show about the Knights Templar. And the painting of that eye has been affixed to a leather Sisley jacket currently on its own traveling exhibit.
To discover Walter Steding is to revel in the Word. He never needed glasses to experience the world in 3-D and invites us to forego notions of tense, past or present. Join him as he steps through the looking glass.
– Gwynned Vitello
---
Pages 126 & 127
INSIDER
DEBBIE
HARRY
INTERVIEWED BY GWYNNED VITELLO
PORTRAIT BY CHRIS STEIN
WE'VE ALL SEEN THE PHOTOGRAPHS, SO COOL, SO IMPOSSIBLY BLONDE, SO KNOWING, VERY DEBORAH. NOT WHO YOU EXPECT TO SEE EMERGING ON THIS HOT SUNNY DAY AT THE OUTDOOR AMPHITHEATER AT A WINERY VENUE WHERE BLONDIE WOULD BE PERFORMING LATER IN THE EVENING.
But at the appointed time just before a soundcheck she arrives, on time, and I swear, would be just as apt to be stomping on grapes as she would be seductively sipping on some ruby nectar. "You can call me Debbie, or Deborah, doesn't matter."
This all came about because Robert Williams called one day asking if I'd talk to Debbie Harry about her interest in introducing Juxtapoz readers to longtime friend Walter Steding. Well, sure, for who defines Insider more than this singer, actor, and art collector than she? Why not meet them both? And so she brought along her long time collaborator and Blondie bandmate Chris Stein, himself a photographer.
– Gwynned Vitello
Gwynned Vitello: Did you grow up in an artsy household, spending the day drawing and writing poetry?
Debbie Harry: Nah, my family wasn't artistic. I grew up with TV. But I always wanted to be an artist, I knew that. I painted a little in high school, I can still do portraits. But you know, it takes me awhile; I'm kind of slow. If I had time I'd really love to splash some paint around, you know, and see what happens.
It doesn't look like you have the luxury of spare time.
We started the tour in June, had some time off in July, and now we're going to the middle of September, and then out again in November. Most of the time when we're off there's other little promotional things to do. Then there's things I have to catch up, little personal things like pay bills. I pay my own. After we had a terrible travesty with a business manager I keep track, you know. I would advise anybody to do that. And I don't pay online either.
I think most of us would think of you very much as a style maker. You definitely have an iconic look but you don't necessarily take credit for it.
It's a combination of things because going back we used to find a lot of really good garbage. New York was full of good garbage, and one of the people who moved into the building we lived in on the Bowery was a great, incredible designer. And he sort of took me by the hand, and he organized and defined me a little bit better. That was Stephen Sprouse. He had an affinity with the '60s mod stuff, and so did we. These guys were clearer about it, and for me I was sort of getting these old dresses, I was being adventurous and trying to discover the right thing.
You were his muse.
A muse? I don't know, but yeah, I guess so.
You were one of the first groups to make music videos; wasn't Heart of Glass before MTV?
Yes, we had to do videos because we had an international audience. And the only way we could promote was to send videos to TV shows.
Chris Stein: We started making them with the first reel-to-reel video. We used them for promotional things; we just shot them and this was before MTV. By the time it started we were in the front line. Also, MTV really wanted to say they created Billy Idol and Madonna, for example, so they pushed people that hadn't been established. Andy (Warhol) had this show on MTV called 15 Minutes, and so Debbie was the voice. We did interviews and talked to people like the Ramones and William Burroughs.
And so that eventually got corrupted and they took it over and made it into 45 Minutes. Andy had some real talent on the show. He had a label called Earhole, and Walter was on the label too; his two records were on Andy's label.
How did you start collecting art?
I started getting the art-collecting bug from Chris, whose mother was a window designer. But I always liked art, always used to go to museums. I came from a completely different background; I always wanted to be a beatnik, really. Chris knew about the NY art scene, was hip to the idea of collecting. Andy gave him paintings for his production work. For Christmas he used to give his friends those little paintings with dollar signs. A good friend of mine, John Reinberg, has a book coming out and they're calling it Making Money, and it's cool to see the development of those paintings. We met Robert at one of his shows.
How did you come up with the idea of rapping on Rapture?
Mos Def or Wu Tang, one of them told us that the first rapping they ever heard was us. We met these graffiti guys, and it comes from the art world. Through Freddy, we met these guys and went to one of these things in Harlem at the Powell Center, and we went and saw these kids on the block having a rap party. I'll never forget that; it was so empowering and so exciting to watch them.
You've covered so many types of music.
And that's why I want you to know about Walter. I wanted Chris to be in on this because he's an old friend of Walter's, who's a really great guy, and Chris used to work with him when he was a performance artist.
Chris: We did a couple of records together, he started working for Warhol and that's how we met him. He was actually living in Basquiat's building, and he was the gofer for the Factory for a while. But Walter is completely Bohemian and nonaggressive so he wasn't gofer for long. He's a hillbilly, from Pennsylvania or someplace like that. He plays violin, opened for us at CBGB's. I was at the Serpentine Gallery in the middle of Hyde Park in London and this guy was doing the same exact shit as Walter.
Who was the reason Debbie Harry sat down to discuss how friendship and history create a shared life of music, painting, fashion, and more. As I remark on her self-deprecating sense of self, she'd probably roll her eyes at being called the Insider. "If you don't see the humor in life in general, I think you're pretty fucked. It's bad enough that I don't see the humor all the time. But I'm pretty laughable."