July 2017
CULTURE – MUSIC
heart of
CLASS
WORDS nick levine
These days, every reality show contestant who throws a bit of shade gets called "iconic". But this horribly over-used word really does apply to Debbie Harry, the super-cool New Yorker who became the greatest pop star of her era. Today, nearly 40 years after Blondie's first hit Denis, she discusses the band's ace new album, her deep appreciation of drag, and her evolving take on sex and gender identity.
Debbie Harry is sitting in a suite at a smart hotel opposite Marylebone station, soothed by her first coffee of the morning. Only she's not drinking it yet because she's been handed a brand of artificial sweetener she calls "poison!"
To be honest, if Debbie Harry said she wanted three shots of tequila in her morning coffee, someone from room
service would bring up the Patron. But the Blondie singer isn't one to kick up a big fuss. Instead, she simply names the sweetener she'd prefer and gets on with the job at hand – chatting to Gay Times – while she waits for the little yellow sachets to arrive.
In the flesh, Debbie is cool, calm and quietly New York – she doesn't have a strong accent like Cyndi Lauper, but when she says "toss", it comes out as "torse" in that fabulous Big Apple kind of way. She's wearing shades because she's still jet-lagged from yesterday's transatlantic flight, but this doesn't mean she's aloof or distant. Actually, she's friendly and engaged from the start, with a nice line in deadpan humour. She's also enthusiastic about her band's new album, Pollinator, which is far better than many would have expected from a Blondie record in 2017.
At this stage, the band's legacy obviously precedes them. Led by their iconic lead singer (whose hair was beautiful tonight and every other night), Blondie were the most exciting and pliable band of the 70s new wave era: they flirted with disco on Heart of Glass, reggae on The Tide is High, and hip-hop on Rapture, which became the first US number one hit to feature a rap. Pollinator sees them reassert their enduring relevance by recording songs written by some of today's sharpest pop talents. Dev Hynes supplies the driving Long Time, Sia pens the punky bubblegum of Best Day Ever, and Charli XCX contributes the wickedly catchy Gravity – on which Debbie tells some unreliable schmuck: "You're nicer when you're sober."
"She's a virtual genius," Debbie says of British rising-star Charli XCX. "She told me she wrote that song when she was 15 – honey, when I was 15, I could only dream of writing a song like that. But she's really got something. When you listen to her lyrics, it's clear she's been exposed to some really interesting literature. She has a frame of reference that's very large – which is either because she's read a lot, or she's had many different lives, which is a nice possibility!"
Some bands with a back catalogue like Blondie's wouldn't be brave enough to collaborate with a bright young thing like Charli XCX. Does Debbie ever feel that protecting the band's reputation gets in the way of, well, experimenting a bit? "In a way, yeah," she admits. "But we've never been able to just go away and make an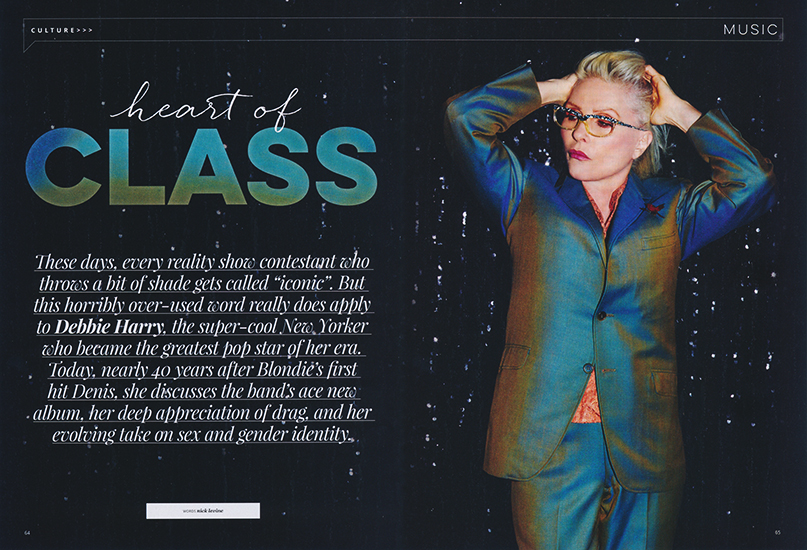 experimental record anyway – not one like David Bowie's Low or Lou Reed's Metal Machine Music. Because of record company contracts and things like that, we've always been in a position where we've had to satisfy supply and demand. Over the years we've managed to wiggle through with a few different things, like Rapture. But even then, our producer Mike Chapman had to take our tapes and actually hold them to ransom from the record company. We had to fight at every stage to release records like that."
At the end of June, Blondie will support Phil Collins at his huge homecoming show in Hyde Park. This summer they're also touring with Garbage, another badass rock band with a female singer who takes no shit. At this stage, with 11 albums to choose from, and pop gems like Sunday Girl and Maria to squeeze in, putting together a setlist must be pretty hellish.
"Well, we always have a bit of a struggle with that," Debbie concedes elegantly. "Clem [Burke, drummer] is of the opinion that the audience wanna hear this, and they wanna hear that. But come on, after over 40 years, I'm a little bit tired of playing Hanging on the Telephone – I'm sorry! But it's always a toss-up.
"Obviously we're here to promote our new album too, but I don't think we've ever felt like just going on stage and doing what we damn well feel like doing. We've just never had that attitude. Clem leans a little more towards satisfying the audience, and I lean a little bit more towards playing the new stuff. Chris [Stein, guitarist] is somewhere in the middle, I suppose. So it all works out."
One of Blondie's signature songs, Call Me, was given a very different presentation when Chi Chi DeVayne and Naysha Lopez lip synched to it on RuPaul's Drag Race a couple of years ago. Debbie and Chris watched on as guest judges, an experience she clearly relished. "It's not like they're a bunch of amateurs. Those girls have been on the boards for years – they're multi-talented and dedicated to their craft," Debbie says appreciatively. "It takes a lot of work to do what they do. They do a lot more than apply make-up and wear the outfits – though at their level, that's a talent in itself. But to do that, and have an entire consciousness about it, and be able to sing, dance
or do comedy, that really is quite something. I mean, someone like Sharon Needles is just incredible – she's a brilliant entertainer. It's just so thorough and she creates a complete picture like Ru. Ru is a complete entity and I think that's what I look for in a drag queen, or any kind of performer."
When we quote a recent newspaper article framing RuPaul's Drag Race as a modern-day (and more woke) take on the decades-old Miss World pageant, Debbie fires back with: "Oh God, Trump wouldn't wanna hear that… But exactly! It's like Miss World, but it's better because it's much more fun."
She's also drily funny when we ask why she thinks she became a gay icon. "They must be desperate," Debbie deadpans. "But that's OK, because desperate is something I understand."
After we share a laugh, Debbie offers a more thoughtful answer. "If you look at the arts, and you see how many great artists are gay, there must be some equation in that. [Being gay] is a minority, a specialty, and as I've gotten older, I've sort of had more freedom to understand it. Being a woman who's gone through puberty and adult womanhood and then the change, I'm sort of like a unisex now – I mean, I don't know what kind of sex I am. I feel like I have so many different sexes in me and I feel sorry for people who don't feel that way about themselves. Because like is much bigger when you feel like this. It gives you much more elasticity in understanding people and appreciating them."
That's quite a sophisticated line of thinking, we think you'll agree, from someone who still hasn't had their morning coffee.
Blondie's 11th album Pollinator is out now. The band will be appearing in London at Barclaycard presents British Summer Time Hyde Park on 30 June. @blondieofficial blondie.net