September/October 2021
HAVANA AFFAIR
IN 2019, BLONDIE PLAYED AN HISTORIC SET OF GIGS IN COMMUNIST CUBA, SHORTLY BEFORE A GLOBAL LOCKDOWN PUT LIVE MUSIC ON HOLD INDEFINITELY. THE POP MILESTONE WAS CAPTURED IN A THRILLING NEW LIVE EP AND SHORT FILM, VIVIR EN LA HABANA – AND THERE IS A NEW STUDIO ALBUM ON THE WAY, TOO. DRUMMER CLEM BURKE AND FILM DIRECTOR ROB ROTH REVEAL ALL…
FELIX ROWE
You may recall from school history lessons that brief moment in 1962 when the world was balanced on a knife-edge as two nuclear superpowers – the United States and Soviet Russia – sat poised with fingers on buttons in a game of call my bluff. As The Four Seasons' Sherry rocketed up the charts, a small island off the coast of America became the centre of a Cold War battle of ideology – possibly the closest we've ever got to full-scale Armageddon: the Cuban Missile Crisis.
"It was interesting to note, it's not known by that in Cuba; it's known as the American Missile Crisis," explains Blondie's drummer Clem Burke, in a heavy NYC drawl. "You see what I mean?"
Sixty years on from that international maelstrom, relations between the US and Cuba are still clambering out of the long shadow it cast. Long-standing trade embargoes have imposed heavy restrictions on activities between the two nations, while the US Embassy in capital Havana sits directly – and provocatively – opposite a large public event space built in 2000 for promoting anti-imperialist ideology.
"It was not really allowed for US citizens to visit Cuba," continues Clem, a contender for understatement of the year.
"If you did, people would go via Canada, and it was always a bit contentious when you arrived back in the States, because of the politics."
When Jay-z and Beyoncé visited on vacation as recently as 2013, the ensuing diplomatic fallout required a lengthy report from the US Treasury Department just to sort the mess out. An appreciation of this taboo is necessary just to get a vague sense of quite how big a deal it is for a US act to perform in Cuba. Not many have done it, but those who have include Audioslave, The High Strung, The Dead Daisies and now Blondie.
Essentially, if you're looking for example of pop music transcending insurmountable boundaries, Blondie's 2019 cultural exchange visit to Havana has got to be up there. But how exactly did it come about?
"Well, we always had aspirations of going to cuba," says Clem, "and once the sanctions were dropped by President Obama, we put it into play. It took a while to get the whole process active, because the cultural exchange programme was the idea, with people coming from all over the world to join us."
For Blondie, it was very much a two-way exchange – the experience of immersing themselves in Cuba's rich culture and heritage was just as important as performing. "I was really interested in the history in the 50s, you
know, when the Mafia took over for a while. And then with Che Guevara throwing them all out, so that was very interesting. That hotel where they were all based, the Hotel Naciuonal de Cuba, is a huge building on the hill overlooking the harbour, and it's a fascinating place, the architecture and its history. It was a very enlightening visit in a lot of ways."
Given the turbulent history between the nations, you'd forgive the band for questioning what kind of reception they might get or, indeed, whether local music fans were even aware of Blondie… "Ironically, Cuba is very close to the United States for it to be so separated. You know, the people definitely have a joy for life and the arts and nature. I felt safer there than I do walking around in a mall in the US. Growing up on the East Coast, there were a lot of Cuban nationals living around New York City and obviously the Miami area [where Debbie Harry was born]."
"The locals were invited to our concerts for a very nominal fee, if any fee at all," he continues. "It was really set up for the people to share a few days with us on holiday. There was a big turnout from the locals. How many of them were familiar with our music, I'm not really sure, but I'd think there'd be some ways of us getting through to them."
The event was documented by artist, filmmaker and friend of the band Rob Roth in the short film Vivir En La Habana. It's a nice memento, capturing spontaneous moments both on and off stage, providing rare glimpses into Harry's enigmatic character. Though, by necessity of its budget, frustratingly short, it's testament to Rob's persistence that it was documented at all.
"We were very fortunate that we were able to capture that," says Clem. "We definitely wanted to document the occasion. You know, it's obviously very low-budget and it's a short film, but we're all very proud of it."
A CUBAN TWIST
Of course, Cuba boasts a rich musical heritage of its own. A highlight of the cultural exchange captured in Vivir En La Habana is the cross-pollination with local musicians, bringing a Cuban twist to the band's staple.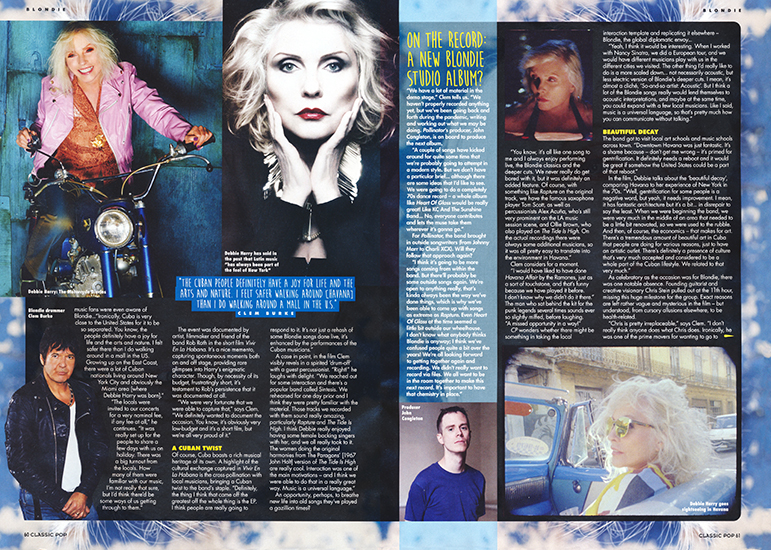 "Definitely, the thing I think that came off the greatest off the whole thing is the EP. I think people are really going to respond to it. It's not just a rehash of some Blondie songs done live, it's enhanced by the performances of the Cuban musicians."
A case in point, in the film Clem visibly revels in a spirited 'drum-off' with a guest percussionist. "Right!" he laughs with delight. "We reached out for some interaction and there's a popular band called Sintesis. We rehearsed for one day prior and I think they were pretty familiar with the material. Those tracks we recorded with them sound really amazing, particularly Rapture and The Tide Is High. I think Debbie really enjoyed having some female backing singers with her, and we all really took to it. The women doing all the original harmonies from The Paragons' [1967 John Holt] version of The Tide Is High are really cool. Interaction was one of the main motivations – and I think we were able to do that in a really great way. Music is a universal language."
An opportunity, perhaps, to breathe new life into old songs they've played a gazillion times?
"You know, it's all like one song to me and I always enjoy performing live, the Blondie classics and the deeper cuts. We never really do get bored with it, but it was definitely an added feature. Of course, with something like Rapture on the original track, we have the famous saxophone player Tom Scott, as well as percussionists Alex Acuna, who's still very prominent on the LA music session scene, and Ollie Brown, who also played on The Tide Is High. On the actual recordings there were always some additional musicians, so it was all pretty easy to translate into the environment in Havana."
Clem considers for a moment.
"I would have liked to have done Havana Affair by the Ramones, just as a sort of touchstone, and that's funny because we have played it before. I don't know why we didn't do it there." The man who sat behind the kit for the punk legends several times sounds ever so slightly miffed, before laughing. "A missed opportunity in a way!"
CP wonders whether there might be something in taking the local interaction template and replicating it elsewhere – Blondie, the global diplomatic envoy…
"Yeah, I think it would be interesting. When I worked with Nancy Sinatra, we did a European tour, and we would have different musicians play with us in the different cities we visited. The other thing I'd really like to do is a more scaled down… not necessarily acoustic, but less electric version of Blondie's deeper cuts. I mean, it's almost a cliché, 'So-and-so artist: Acoustic'. But I think a lot of the Blondie songs really would lend themselves to acoustic interpretations, and maybe at the same time, you could expand with a few local musicians. Like I said, music is a universal language, so that's pretty much how you can communicate without talking."
BEAUTIFUL DECAY
The band got to visit local art schools and music schools across town. "Downtown Havana was just fantastic. It's a shame because – don't get me wrong – it's primed for gentrification. It definitely needs a reboot and it would be great if somehow the United States could be a part of that reboot."
In the film, Debbie talks about the 'beautiful decay', comparing Havana to her experience of New York in the 70s. "Well, gentrification for some people is a negative word, but yeah, it needs improvement. I mean, it has fantastic architecture but it's a bit… in disrepair to say the least. When we were beginning the band, we were
very much in the middle of an area that needed to be a little bit renovated, so we were used to the rubble. And then, of course, the economics – that makes for art. There's a tremendous amount of beautiful art in Cuba that people are doing for various reasons, just to have an artistic outlet. There's definitely a presence of culture that's very much accepted and considered to be a whole part of the Cuban lifestyle. We related to that very much."
As celebratory as the occasion was for Blondie, there was one notable absence. Founding guitarist and creative visionary Chris Stein pulled out at the 11th hour, missing this huge milestone for the group. Exact reasons are left rather vague and mysterious in the film – but understood, from cursory allusions elsewhere to be health-related.
"Chris is pretty irreplaceable," says Clem. "I don't really think anyone does what Chris does. Ironically, he was one of the prime movers for wanting to go to Cuba. He had been talking about that since the 70s. So, yeah, at the last minute for him not to be able to come along was quite a disappointment – for him and for us. But, you know, it was just one of those things that he was unavailable at that time, unfortunately. It took so long to get everything in play, we weren't about to cancel. Tickets had been sold, people had made travel arrangements around the world…"
It's with great relief to all Blondie fans that Stein's absence was momentary, and indeed he later added guitar overdubs to the EP in the studio. It'll rankle the live purists, but, really, who would deny the man his place in the achievement that he was so instrumental in setting up?
ONE WAY OR ANOTHER
Of course, in hindsight, the ongoing drought in live music that began just a few months after the trip must give it ever greater resonance. Any later and lockdown could have ended it all.
"Very much so," says Clem. "And, ironically, right after we did the cultural exchange, the President that's luckily no longer here, Donald Trump, put the sanctions back on. So it was blocked right after we left!
"But it's great that now things are opening up a bit, we have some new things to present as we move forward with a new record. This enables us to have a little bridge to the next Blondie album that's due to be released this time next year – let people know that we're in the process of doing things creatively still.
"We're playing at Robert De Niro's Tribeca Film Festival in New York City – a Q&A, with Rob, Chris, Debbie and myself, followed by a performance on the river in downtown Manhattan. That'll be our first live performance in 15 months, so we're all really excited about that."
And there's the long-overdue UK arena tour with Garbage to come in November. "We're really looking forward to it. It was postponed last year and it's also been rescheduled, if needed, for this time in 2022.
"What do you think," he asks us, "are things going to be opening up enough for us to play?"
We certainly hope so, Clem. If you can make it to Cuba, we'll definitely find a way to get you here – one way or another.
The soundtrack to Vivir En La Habana is out now via BMG. Blondie tour the UK in November with support from Garbage. For more details, visit blondie.net/
---
ON THE RECORD:
A NEW BLONDIE STUDIO ALBUM?
"We have a lot of material in the demo stage," Clem tells us. "We haven't properly recorded anything yet, but we've been going back and forth during the pandemic, writing and working out what we may be doing. Pollinator's producer, John Congleton, is on board to produce the next album.
"A couple of songs have kicked around for quite some time that we're probably going to attempt in a modern style. But we don't have a particular brief… although there are some ideas that I'd like to see. We were going to do a completely 70s dance record – a whole album like Heart Of Glass would be really great! Like KC And The Sunshine Band… No, everyone contributes and lets the muse take them wherever it's gonna go."
For Pollinator, the band brought in outside writers (from Johnny Marr to Charli XCX). Will they follow that approach again?
"I think it's going to be more songs coming from within the band. But there'll probably be some outside songs again. We're open to anything really, that's kinda always been the way we've done things, which is why we've been able to come up with songs as extreme as Rapture. Even Heart Of Glass at the time seemed a little bit outside our wheelhouse. I don't know what anybody thinks Blondie is anyway; I think we've confused people quite a bit over the years! We're all looking forward to getting together again and recording. We didn't really want to record via files. We all want to be in the room together to make this next record. It's important to have that chemistry in place."
---
Q&A; DIRECTOR ROB ROTH ON THE 'HAUNTED' VIBE OF HAVANA
I've known Debbie for more than 30 years. Usually, they say, 'We need a cover, or a music video', and then I pitch it. This was the very first time I went to them: 'We need to document this! This is never happening again!' It's a milestone. There are so many layers to its significance.
"I just didn't know what was going to happen, so I let it unfold… It was low-budget, I hit all of these walls, then I found out Chris wasn't going on the way to the airport. It was just endless – 'Oh no, this is going to be a disaster!' I'd never shot in a Communist country [and] I actually hadn't shot any real film in years. It was very nerve-wracking, but it was also a total adventure. That's why Debbie and I get along so well. We're always down for the adventure.
"Certain places I call 'haunted' and Havana was one of those – usually port cities with long histories of shenanigans. Because of their system, they're in a specific moment, like time has stalled in a way. But the film wasn't about capitalism versus whatever; it's more about music as like the perfect diplomatic action… it transcends language or politics. It sounds really clichéd but it's absolutely true and I witnessed it."
It's shot on film but with hand-drawn animations – classic with a contemporary twist… "My hunch was, Havana is kind of confusing, you don't really know what timeframe it's in, with the cars and things, so let's shoot on vintage equipment. Budgetarily, I couldn't do the entire movie that way, so for the shows we took a more modern approach, and then the Super-8 is almost filtered through the dream world – a peak into the unknown."