3rd November 2000
VOL. 8 – ISSUE 17
Pages 10, 16, 17, 18, 19.
Page 10
NEXTWEEK 11.3.00 – 11.12.00
SATURDAY,
NOVEMBER 4
MIND'S EYES
Crave at Axis, 1 Sheridan Square (7th Ave), 807-9300, www.axiscompany.org – Axis Company presents the highly anticipated U.S. premiere of Sarah Kane's Crave, starring Deborah Harry, Brian Barnhart, David Guion and Kristin Spaltro. The non-linear narrative play featuring four characters charts the disintergration of the human mind under the pressures of love, loss and desire. Crave is a lyrical, fragmented exploration of the darkly humorous and desperate side of human relationships. Through December 23; Wednesday through Saturday at 8p; $25.
---
DEBORAH HARRY:
WHAT YOU CRAVE
Interview by Robert Kent
Photo by Susan Shacter
With a bottle of peroxide and a pair of killer heels, Deborah Harry became the glam-rock poster girl of the 70s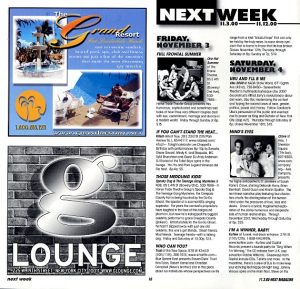 and early 80s. This platinum blonde is the original New York new-wave-punk-pop-rock-disco goddess. As lead singer of the supergroup Blondie, she scored international success with "Heart of Glass," "The Tide Is High" and "Call Me." When the group disbanded, the rockbird pursued a solo career, charting again with "French Kissin" and "Sweet and Low." Between gigs, the dynamic performer appeared (briefly) on Broadway and co-starred in a string of off-beat independent movies, including Videodrome, Hairspray, Heavy and Six Ways to Sunday. These days, the singer/actress co-stars in the American premiere of controversial British playwright Sarah Kane's Crave at Axis. In the multimedia production, Harry plays one-fourth of a very troubled personality. During a break in rehearsals, she openly discussed her career and this latest project.
How would you describe Crave?
I can't really describe Crave. It's not a play that's plot driven. It's about emotion. It's about inner turmoil and personality. In a way, I guess it's about madness.
How do you think audiences will react to the play and your performance?
Oh, they're going to love it! [Speaks with an over-the-top, ironic tone.] They're just going to love it! They're going to be drooling and crying and laughing! It will be a very emotional response. Hopefully, audiences will be as affected as I was when I first read it.
When Sarah Kane's first play premiered in London it was critiqued as "vile," "a disgusting feast of filth" and "devoid of intellectual or artistic merit." Have you ever been affected by criticism?
The British press can be very, very tough. They use language extremely well. They have a lot of curse words. And they string these phrases together in a way that peels the skin off from twenty paces. It can be pretty heavy. The hardest I was ever hit was after my first trip to the U.K. I waited to read all the criticism until I got back home. After I discovered what they wrote, I stayed in bed for two weeks!
Crave is your first major stage role since Broadway's short-lived Teaneck Tanzi: The Venus Flytrap in 1983 with Andy Kaufman. What do you remember about that experience?

The show was difficult because we had to learn to wrestle. We were in training for weeks and weeks and weeks. When the show ran in previews, the audience response was terrific. The reason we closed, and I know this sounds like I'm making it up, was because of the critics. They really didn't like the show. They didn't understand it. They didn't appreciate the popularity of wrestling. [The critics] weren't into the audience participation, which was a very important part of that show. So, the show closed on Broadway despite advance sales and a certain amount of popularity through word of mouth. Another reason we closed is that the backers of Teaneck Tanzi had put up millions of dollars for My One and Only, the musical with Tommy Tune and Twiggy. They put all their money behind that show. And, our little show got the ole' heave ho.
What was it like working with Andy Kaufman?
Well, he was a genius, of course. At that point, Andy was quite cooperative and very hard working.
Is there a difference between Deborah Harry Rock Star and Deborah Harry Actress?
It's a different business – a different responsibility. When you're working with a director you have to put your faith in one person to a certain degree. You have to listen to someone else. As a singer, I get to put in my words, my point of view and sometimes my music. Acting, I have to hand over the reins and be directed. It's really good for a performer to do that. I know some divas are notoriously hard to handle. I'm not going to say I'm not a diva, but I really work at focusing on being part of an ensemble. For me, I like it… it's food! I thrive on it!
Your most popular film to date is John Waters' Hairspray. What was it like working on that film?
John had a fevered approach to directing. He's very dedicated. He knows exactly what he wants. I'm not saying that it's mania, but he really does want a sort of madness, an almost cliched kind of performance. He wants a very studied, cartoonish character portrayal. That really works with his scenarios. It just really works!
In addition to Crave, you have several films waiting to be released. Has acting become a new priority in your career?
I don't know if it's a new priority. I guess I'm acting now because I have the opportunity, a reputation and access to great material.
Tell me about your upcoming film The Fluffer.
I play a lesbian strip club owner. Isn't it obvious they would want me for that! I make a small appearance in a very funny little movie. It's sort of like a soap opera, but naked… and dirty!
In the film Firecracker, you play a chief of police. What's your most memorable run-in with the law?
Mine? [laughs.] My most memorable run-in with the law? Oh God, I have this one really awful story. [pauses.] No, I can't tell it. I'm saving that one for my bio, God damn it! Okay. Here's one. I got pulled over in my father's car. This was in the early 70s. My father had this huge Chrysler. In the car, I had about 14 of the skinniest people you have ever seen with big hair and platform shoes. In my father's car, I had the New York Dolls and their girlfriends in full regalia. We got pulled over on the Taconic Parkway. It was outrageous. The cop looked in the window and saw that there were about six of us in the front seat. He said, "Oh my, God! I can't believe it!" Then, he just drove away. He didn't want to deal with it. He must have thought we were a clown club from the circus.
You've played Wigstock several times. Any plans for future appearances?
Yes. I haven't been there in several years. It just hasn't worked out. I've either been working or out of town. I've always enjoyed Wigstock. Big or small, rain or shine. It's a lot of fun – such incredible talent. And Lady Bunny, of course… what a great, great sense of humor!
Were you surprised by the reaction to your staged fight with The Dueling Bankheads for covering "Heart of Glass" at Wigstock?
Totally. I mean, really! It was so obviously schtick and pratfalls. I guess they just worked it. Those queens, they really know what they're doing! They worked it!
You've recently finished recording a song with Kiki & Herb.
How do you know about that? [Surprised.] Yes, I was invited to sing on their soon-to-be-released Christmas CD. I'm a great fan of Justin Bond who is Kiki. I'm glad I got a little voice in there.
You've worked with so many drag queens. Do they find you or do you find them?
I didn't realize I've worked with so many drag queens. [laughs.] They're lovely people. We find each other.
What advice do you have for today's drag queens?
Paint your face and dance!
Editors Note: Directed by Randy Sharp, Crave starring Deborah Harry, Brian Barnhart, David Guion and Kristin Di Spaltro runs at Axis through December 23. The theater is located at 1 Sheridan Square (just off 7th Avenue). The limted Off-Broadway engagement plays Wednesdays-Saturdays at 8pm. Tickets are $25. For more information and reservations, call 212-807-9300.