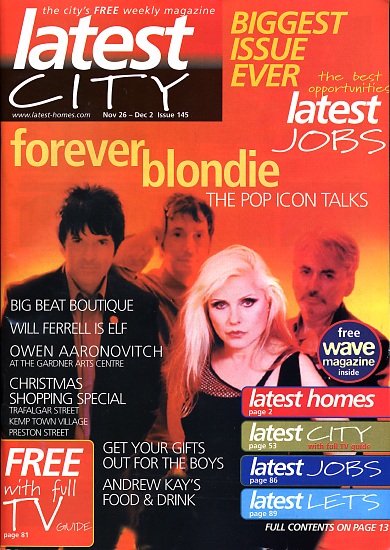 26th November – 2nd December 2003
Free weekly magazine from Brighton, UK
LATEST CITY TALK TO THE NEW WAVE SURVIVORS
Debbie Harry is defending her decision to feature an image of a big kinky patent leather boot on the cover of their latest album. So are they all foot fetishists, or what? "I used to have a fan who came down in pink high heels all the time," remembers Debbie by way of explanation. Bassist Chris Stein has a thought: "Actually Debbie's boots, one pair of her boots from a million years ago, is what got us one of our earliest gigs…"
Whatever their taste in footwear, Blondie can afford to be jubilant – after all, they are riding the crest of a wave. Atomic Kitten scored a worldwide number one with their reworking of 'The Tide is High', and pop kittens Kylie, Holly Valance and Rachel Stevens are all busy adapting the synth meets guitars electropop sound that the band helped to hone. This musical hero worship meant that Blondie's pounding recent single 'Good Boys' sounded cutting edge, rather than like the hoary old bleatings of another 70s throwback.

Blondie began when art student Chris Stein met former Playboy Bunny Debbie Harry. The two rapidly became an item, and the couple became the nucleus of the band for the next 30 years. So how do they explain their longevity? Debbie has a theory: "We've been in business together for a long time. We were successful, we weren't successful and now we're successful again. I think that each of us was motivated before we met, it's not like our motivation came from working together."
This determination has helped the band survive the lean years of the late 80s. Around this time Chris and Debbie were also faced with problems more close to home. As their records tumbled down the charts, Chris Stein became seriously ill with a life threatening genetic disease. Debbie understandably went underground for a while, dividing her time between nursing Chris and kickstarting her acting career. Thankfully, Stein eventually recovered from his illness and was able to take his place in Blondie once again.
Blondie's success in the face of adversity has filtered into the music – the new album is called The Curse of Blondie. Debbie reckons that "the curse of Blondie has sort of been an ongoing refrain for us. When anything bad happened or sort of untoward, you say ah, the curse of Blondie. I always think of it as being sort of funny."
However talented the boys in the band are, it's Debbie's look and attitude that define Blondie. She is philosophical about her style icon status: "What I figured out is if you just last long enough, you know, and sort of maintain some kind of, decent appearance, you're OK, you become an icon." Though sceptics point out that her enduring look may be down to the wonders of a surgeon's knife, rather than the rejuvenating qualities of a rock'n'roll lifestyle, Debbie continues to be worshipped as a style supremo. Fashion editors, club owners and movie makers are still pounding on her door hoping for a slice of the glamour that she leaves in her wake. Not bad for a woman of 'a certain age'.
These days Blondie's original fans may prefer visiting Ikea over pogo-ing, but Blondie are certainly one of the musical wonders of the world still worth catching.