October 2007 – 19th Anniversary Issue!
LOS ANGELES' ARTS & ENTERTAINMENT MAGAZINE
Pages 78, 79, 80, 81, 82
DEBBIE HARRY
"Nothing Is Real But the Girl"
BY MELANIE KIRSCHBAUM
PHOTOGRAPHY PATRICK FRASER
HAIR/MAKEUP KRISTI MATAMOUROS
LOCATION LAFAYETTE HOUSE NYC
At the age of fifteen, this writer stole out of her suburban home on a school night and, unaccompanied for the first time, boarded the train bound for the Tower Theatre in downtown Philadelphia to catch Blondie's stop on their No Exit tour.
Now, almost a decade later, this same writer is headed for a face-to-face interview with the woman who fronted that unforgetable experience. The impending reality has plenty of time to materialize as midday traffic crawls along the 405, my hands drumming on the wheel to Harry's new solo album, Necessary Evil, my body perspiring beneath the Camp FunTime t-shirt that I have donned as a nostalgic tribute to the style icon.

Though I came into existence around the time of Harry's first solo venture, Koo Koo, and was therefore unable to witness the peroxide-haired singer's initial explosion onto the music scene, (a tragic lack of planning that I will forever hold against my parents), I get it. Debbie Harry is a living legend. If you have breasts and an inclination to make music, you owe her. She made it OK to rock hard, look hot, get down, and kick ass. A living, breathing example that you could be visually, musically, and intelligently stimulating while simultaneously possessing edge, style, and mass appeal. She changed the face of punk rock and pioneered new wave without compromising her femininity, and in many ways because of it. Debbie Harry is a fearless leader for all those who dare slip on a pair of kitten heels and follow her tracks to the stage; and to this day she continues to blaze the trail.
Debbie Harry began her musical career with the folk rock group, The Wind in the Willows, and later joined the girl-group trio, The Stilettos, in the early 1970s. The Stilettos' backup band included her eventual boyfriend and Blondie guitarist, Chris Stein, with whom she formed Blondie in the mid '70s. Blondie quickly became regulars at Max's Kansas City and CBGB's in New York City, but broke out from their underground status and earned international success with the release of their album, Parallel Lines, in 1978, led by the single "Heart of Glass." Their following albums, Eat to the Beat (1979) and Autoamerican (1980) produced the smash hits "Atomic," "Dreaming," "The Tide Is High," and "Rapture," while a collaboration with Italian songwriter/producer Giorgio Moroder on the American Gigolo soundtrack resulted in the biggest single of Blondie's career, "Call Me." However, things disintegrated in 1982 when, on the heels of a poorly received album, The Hunter, and Chris Stein's diagnoses with the potentially fatal disease Pemphigus, the group disbanded.
Harry followed up her first solo album, Koo Koo, with Rockbird (1986), and its track "French Kissin' in the USA" put her on the UK top ten singles chart and became a moderate U.S. hit. Her subsequent ventures, Def, Dumb and Blonde (1989) and Debravation (1993) also received decent attention both stateside and abroad.
In 1997 Blondie began working together for the first time in 15 years as the four original members embarked on the album, No Exit. The band achieved renewed success and a number-one single in the UK with their album and its song, "Maria." In 2003, Blondie released their eighth studio album, the critically acclaimed The Curse of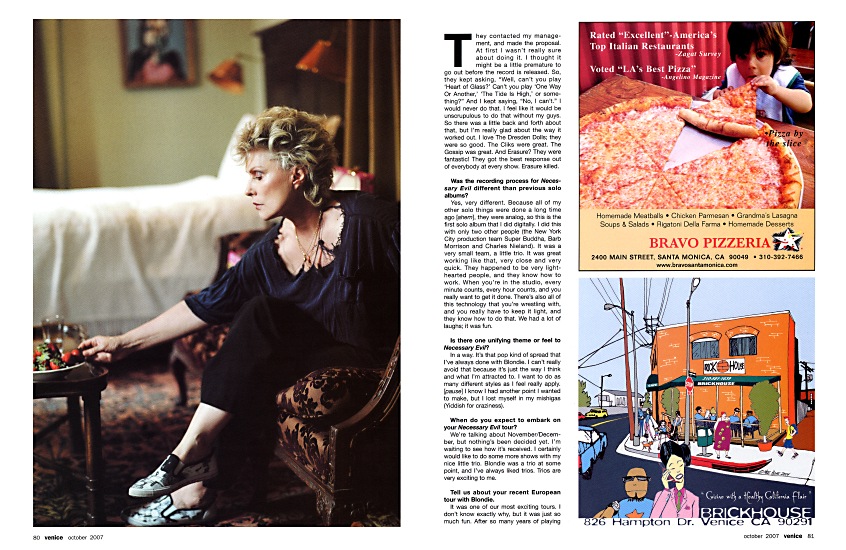 Blondie, and in 2006 was inducted into the Rock and Roll Hall of Fame and the Rock Walk of Fame. To date, Blondie continues to tour, and since their debut they have sold over 40 million records.
In an obvious turn of events, Harry's scene-stealing good looks have also given way to film and television appearances. Harry made her major motion picture debut in the David Cronenberg film, Videodrome, which was followed by her turn as the villainous Velma Von Tussle in John Waters' Hairspray. Some of Harry's other notable film roles include Union City, Tales from the Darkside: The Movie, Spun, Cop Land, Heavy, My Life Without Me, Full Grown Men, and the upcoming Elegy. Her TV guest appearances include "MADtv," "Will & Grace," "Absolutely Fabulous," and "Saturday Night Live."
While it's been more than a decade since she has flown solo in the studio, Necessary Evil picks up as though no time has passed with 17 striking songs that are signature Debbie Harry. In addition to her unmistakable velvet purr, and cool drawl, comes a sense of controlled yet daring confidence. She's endured this, tackled that, and now has her sights set on the next thing. And if her lyrics to her new track "Deep End" are any indication, she's not frightened one iota of what that could be.
So don't be afraid of the deep end
Up to your neck
Holding your breath
No don't be afraid
Don't be afraid of it
Don't be afraid
You'll only get wet.
Venice Magazine: What inspired your music today?
Debbie Harry: Pretty much the same as years ago – personal experience, observations, wish fulfillment, fantasy; all the things that come my way or that I think of, and then a lot of it has to do with coming up with a good hook and developing that somehow. In a lot of ways it's like putting together the pieces of a puzzle to get the right combination, and that's always fun. I really like that aspect of writing a song. I really hate myself when I write generic things, but on the other hand it's sometimes very difficult to write something that's very personal. But, in the long run, that's the best thing you can possibly do. Do something that's very emotional, because the audience is going to know that; somehow they know that.
Do you find that you receive the best response from an audience when you're being the most honest?
If something has an emotional effect on you, odds are it will really have an effect on someone in the audience. They're going to have a similar experience. So if you're really being bold about something and really doing it, they're going to feel it.
Is there one song in particular that was really personal and difficult for you to write or perform?
I hink that a lot of my songs have elements of that. I like exposing myself and being in front of an audience. There are certain parts of myself that I hesitate to reveal, but yet they have to do with the collective human experience.
Does making music and performing still invigorate and excite you in the same ways?
Oh, absolutely. Hitting the stage in front of a live audience, there's really nothing like it. Cyndi Lauper's True Colors Tour was a fresh experience for me. To be in stage without Blondie and to be doing material that, for the most part, I have never played in public was really difficult at first. I had to concentrate so hard. With Blondie I can really relax because it's so second nature to me, but this was much more intense of an experience.
I attended the True Colors concert when it stopped in LA, and was blown away by the performances and the feeling of community in the audience. How did you become a part of it?
They contacted my management, and made the proposal. At first I wasn't really sure about doing it. I thought it might be a little premature to go out before the record is released. So, they kept asking, "Well, can't you play 'Heart of Glass?' Can't you play 'One Way Or Another,' 'The Tide Is High,' or something?" And I kept saying, "No, I can't." I would never do that. I feel like it would be unscrupulous to do that without my guys. So there was a little back and forth about that, but I'm really glad about the way it worked out. I love The Dresden Dolls; they were so good. The Cliks were great. The Gossip were great. And Erasure? They were fantastic! They got the best response out of everybody at every show. Erasure killed.
Was the recording process for Necessary Evil different than previous solo albums?
Yes, very different. Because all of my other solo things were done a long time ago [ahem], they were analog, so this is the first solo album that I did digitally. I did this with only two other people (the New York City production team Super Buddha, Barb Morrison and Charles Nieland). It was a very small team, a little trio. It was great working like that, very close and very quick. They happened to be very light-hearted people, and they know how to work. When you're in the studio, every minute counts, every hour counts, and you really want to get it done. There's also all of this technology that you're wrestling with, and you really have to keep it light, and they know how to do that. We had a lot of laughs; it was fun.
Is there one unifying theme or feel to Necessary Evil?
In a way. It's that pop kind of spread that I've always done with Blondie. I can't really avoid that because it's just the way I think and what I'm attracted to. I want to do as many different styles as I feel really apply. [pause] I know I had another point I wanted to make, but I lost myself in my mishigas (Yiddish for craziness).
When do you expect to embark on your Necessary Evil tour?
We're talking about November/December, but nothing's been decided yet. I'm waiting to see how it's received. I certainly would like to do some more shows with my nice little trio. Blondie was a trio at some point, and I've always liked trios. Trios are very exciting to me.
Tell us about your recent European tour with Blondie.
It was on of our most exciting tours. I don't know exactly why, but it was just so much fun. After so many years of playing together, there is a very familial feel. You're travelling with people and it's very intimate, so you're happy when you're with them and miss them when you're apart, and sometimes vice versa. Sometimes you just sort of hate everybody, but you really do have to get along with people. You can't be an asshole. When you're out there on the road if somebody is really a jerk it ruins the whole scene and the whole picture, and you always have to make the best of it. I guess that's what they say about being professional. You have to have a certain give and take, and stay chill, and that comes with experience.
What are some of your favorite bands today? Are you plugged into the contemporary music scene?
I try to be. It's not easy because there's so much stuff going on, but I'm really excited about M.I.A. I just filled out a questionnaire for another magazine and they asked me what I thought the future of music would be, and there's no way to know. The business has changed a lot in the last few years. Music is so affected by technology, and it's always been that way when you come right down to it. It's kind of fascinating because in the days of Mozart or Beethoven and all those men, and I suppose there were women, too, there was no standard scale. Can you imagine that "do" is not "do" 50 miles away? Another piece of music would sound completely different if played on a different scale. And it was only upon the utilization of technology that they locked down the scale so that all music would sound the same wherever it was played in the western world. The other thing that's really interesting to me is that linguists are saying that music came before language. That man communicated musically before he had language and spoke. For example, man would hum to a baby.
I heard that Kirsten Dunst signed on to play you –
[Shakes her head] Not signed, nothing's definite. And it's been, I feel, prematurely talked about in the press. It's really taken a life of its own and it's a project that is merely in discussion. There's no script.
The result of collective wishful thinking, I'm sure.
I'm flattered that she wants to do it, and I'm flattered that people are curious and asking about it, but it also makes me a little bit nervous because sometimes when you talk about things too soon they sort of get fucked up. [laughs]
You were close with Andy Warhol; have you ever visited The Andy Warhol Museum in Pittsburgh?
Actually, I did go there and it was closed. And I went there another time and it was still under construction, so I actually never got there. I'll get there. I will.
What sparked your foray into acting?
In the early days, I was doing movies at the same time I was doing Blondie, but when Blondie started to really work it was so time consuming that I ended up just doing the band. But I've been doing them all along, a little piece here, and a little piece there.
I loved you in Hairspray.
Oh yeah, Hairspray was so much fun!
Have you seen the new one?
No, not yet, but I've heard good things about all the performances.
To be honest, a remake felt unnecessary. John Waters' film is untouchable.
Personally I'm kind of sick of remakes.
Thank you!
[Into the tape recorder] She paid me to say that! [laughs] I'm not a big musical theater fan by any stretch of the imagination, but I'm so happy for John because did you ever think he expected that to happen? No way. And yet he still maintains his idiosyncratic point of view, and we're so lucky to have that. There are not enough unique people, but he does it somehow. He holds onto his guns.
The music of Blondie will appear in a West End musical based on the movie Desperately Seeking Susan, opening this month at the Novello Theatre in London. How did this come about?
Because some nut thought it up. [laughs] Actually, he [Peter Michael Marino] is a great, great nut. He loves Broadway and he loves musical theater. One night he was at home watching Desperately Seeking Susan, and he turned the sound off and started playing Blondie songs in different spots and thought, "Wow, this could really work." So, he wrote it all up and they got the rights to do it and carry on. They came and made their pitch to me and I thought, "Oh, I like Desperately Seeking Susan, but musical theater I'm not so sure about." Then I went home with the script and thought it was fine; it all worked. It's unbelievable how well the songs fit.
Do you have any other film roles coming up?
I did a little piece for Isabel Coixet, who wrote and directed My Life Without Me. Isabel called me and said she was doing another movie, Elegy, based on a Philip Roth book, and she gave me a little part. I was so thrilled because it's Ben Kinsgley and Penelope Cruz and Dennis Hopper. Twist my arm, why don't you? [laughs] Isabel does very serious, dark, emotional pictures, and this one is about mortality.
I have to ask you about a story I heard, how you accepted a car ride with someone who was later revealed to be Ted Bundy.
Everybody always asks about that. It was a long time ago in the very early '70s. In the mid '60s, hitchhiking was part of getting around. Everyone did it. Of course, there were bad experiences, but the whole hippie thing was big love, big generosity, oh brother, have a ride. I didn't really want to hitchhike, but I had on these big platform shoes and I couldn't walk, so then I took my shoes off, but the streets were full of broken glass. I couldn't get a cab. I kept trying, but I couldn't get one. I was on the Lower East Side when the Lower East Side was really low, so I really was desperate. I wanted to get to the West Side, and I just got in this car. Fortunately I did get out.
I heard you unlocked the door from the outside and rolled out.
Yes, those were my stunt girl days. It was so creepy. I remember thinking, what have you gotten yourself into this time? He wasn't talking very much, and I just got a creepy feeling. I looked around the inside of the car and the whole interior was gutted. There was nothing on the dash, just metal and wires.
It's especially scary to think about how girls today are still doing it. They meet guys on the internet, or in bars, or wherever, and go off with them. There's no excuse for us to still be so naïve. These aren't the hippie days; women have to be aware.
It's a good thing I talk about it, I guess. Then maybe people will be more careful about getting into strange cars.
Debbie Harry's Necessary Evil drops October 9.